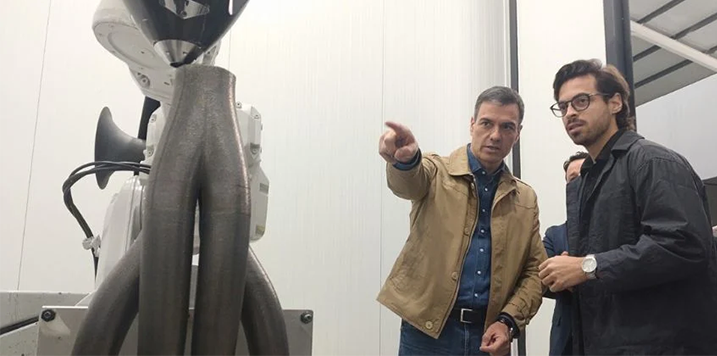 05 July, 2023
Spain's Prime Minister, Pedro Sánchez, has visited technology company Meltio, located in Linares (Jaén). Meltio specialises in 3D printing for the manufacture of metal parts and is researching multi-metal 3D printing, alongside neighbouring Spanish business, Sicnova.
Meltio, with a workforce of 100 employees all over the world, exports its 3D printing solutions to over 60 countries. With these solutions, the aerospace, automotive, defence, mining, and oil and gas industries, among others, can manufacture and repair metal parts.
Sánchez was accompanied by Government delegate Pedro Fernández and was given a tour of the tech company's facilities. Meltio has received 1.5 million in investments from the Ministry of Science and Innovation in order to promote Spanish industry in the industrial revolution of the 21st century and to reinforce technological capabilities for safe and sustainable energy autonomy.
This Spanish tech business has the strategic support of ArcelorMittal, the world's largest steel producer and its clients include universities, technology centres and the US Navy, which is using Meltio's 3D technology to do on-board repairs and manufacture parts. This company has almost one hundred employees and is committed to using local suppliers, creating stable employment and embracing multiculturalism.
Source: Auto-revista.