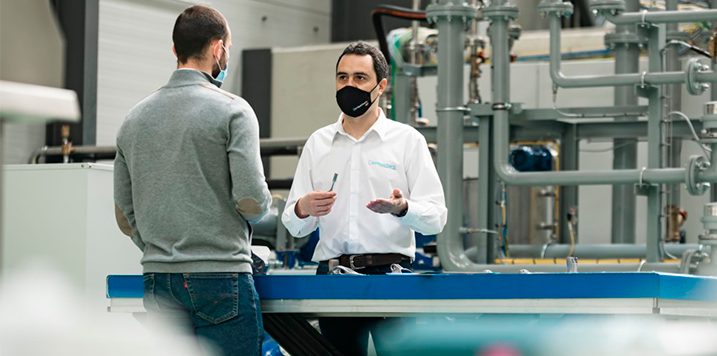 24 November, 2021
HIPERBARIC, which specialises in high-pressure technology industrial equipment and is Spain's top manufacturer of hot isostatic pressing equipment (HIP), is to present its innovative technology at two of the most important events on the 3D printing scene: ADDIT3D and Formnext.
ADDIT3D will be held alongside a number of other fairs within the framework of the +INDUSTRY event from 26 to 28 October at the Bilbao Exhibition Centre (BEC). Hiperbaric will be at stand 3/D-26.
Formnext, to be held completely on-site, will run from 16 to 19 November in Frankfurt and the company will be at stand 120-B121.
HIP, the ally of additive manufacturing
HIP technology is used in manufacturing 3D metal parts as a step in the post-processing to improve their properties. It enhances their added value and makes them suitable for a wider range of applications.
Hot isostatic pressing is a technology used to densify metal and ceramic components, in an inert atmosphere, through high pressure levels (of up to 2,000 bar / 200Mpa) and temperatures (up to 2,000 °C).
The main benefits that HIP contributes to high-performance parts include the following:
Eliminating porousness and densifying the material.

Improving mechanical properties, such as ductility, resilience and fatigue resistance.

Eliminating defects and thereby reducing the number of non-conformities.
Hiperbaric at ADDIT3D and Formnext
Hiperbaric will bring its technology and equipment to the attendees, who will get a first-hand look at the company's range of compact, versatile, efficient and 100% safe hot isostatic pressing equipment.
Developed to ensure the utmost reliability and performance, Hiperbaric HIP presses can reach pressures of up to 200Mpa and feature 'fast cooling' technology, which rapidly cools the argon down, increases productivity and gives the desired micro-structure to the parts.
The benefits:
Possibility of reducing treatment temperatures with respect to the presses of 100MPa.

Reducing grain by minimising the time kept at high temperatures.

Retaining solid solution elements in some alloys, which enables thermal solubilisation treatments and HIP to be combined.

Controllable cooling speed for materials where a defined cooling curve is necessary.