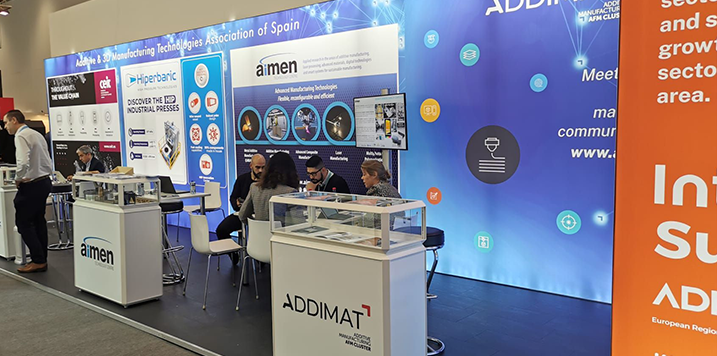 31 October, 2023
The additive manufacturing sector will meet again next week in Frankfurt. Like every year, ADDIMAT once again organizes a group participation to show the technological capabilities of Spanish companies at the main additive manufacturing fair, FORMNEXT, which will be held from November 7 to 10 in Frankfurt.
The joint booth in which 8 companies from the sector will exhibit together with the association will stand at hall 12.0, location B119. The companies will share a 84 square meter space where they will be presenting their latest developments in 3D printing.
A preview of what visitors will find at the Spanish joint booth:
AIMPLAS will show its latest developments in intelligent and flexible materials, with electrical or magnetic conductivity properties. It will also present materials that contribute to the circular economy and new materials for the health sector.
ARCELORMITTAL will bring at the show new solutions for additive manufacturing.
CRAMIK is a company that develops materials technology, working with recharged polymers and high-end ceramics. The Valencian startup is taking its first steps in Ultra High Temperature Ceramics.
REINFORCE3D is has developed an innovative post-processing technology for the additive manufacturing industry, known as the Continuous Fiber Injection Process (CFIP).
ROVALMA will present a disruptive metal additive manufacturing technology for large, high-performance parts.
HIPERBARIC presents the new features of its HIP (Hot Isostatic Pressing) solutions.
Finally, the CEIT and LORTEK technology centers will also exhibit innovative solutions in the field of metal additive manufacturing, as well as the latest relevant projects they are working on.