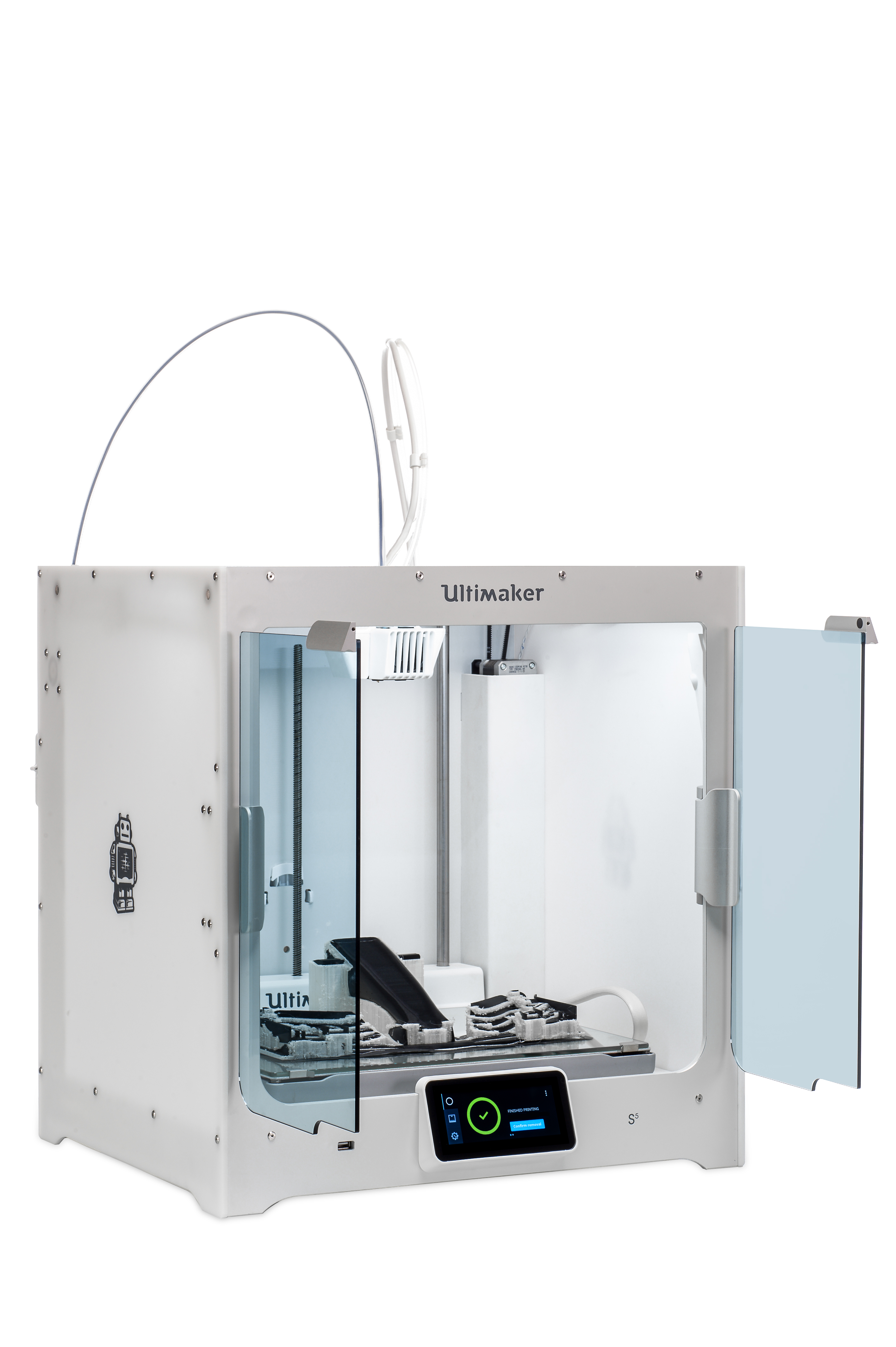 23 May, 2018
Ultimaker, the global leader in desktop 3D printing, unveiled the Ultimaker S5 at Hannover Messe, the latest expansion in its portfolio of professional 3D printers. The Ultimaker S5 is perfectly optimized to adapt to current work processes and provides even more reliable results than before. With a greater volume of impression, the Ultimaker S5 is the definitive professional solution to print functional prototypes, tools of manufacture and pieces of end use.
The Ultimaker S5 integrates the complete hardware, software and configuration of materials, as well as a set of optimal settings, designed for professional users that require complete geometric freedom, materials with industrial properties, repeatability, availability and an integrated work system. It features an optimized touch screen for a better user experience, features a 330x240x300 filament flow sensor that automatically pauses and continues work when the material runs out, keeping the quality of the print intact. Improved bedding ensures a perfect first layer and compensates the printing platform continuously while printing, allowing the Ultimaker S5 to be used without supervision. Ultimaker S5 allows you to get new applications and can print with a wider range of materials, from PLA to advanced engineering materials such as Nylon and PC. Ultimaker S5 includes a closed frontal system and, since autumn 2018, an anodized construction platform. Here you can consult the complete list of specifications.
Ultimaker has also introduced two additional products designed to make 3D printing even more accessible and easy to integrate into any work system:
• Ultimaker Tough PLA - A technical PLA filament optimized for printing larger models, for functional prototyping, tooling and manufacturing tools, without delamination or warping. With an impact resistance similar to the Ultimaker ABS and greater rigidity, Tough PLA is less fragile than the normal PLA and gives a higher matte surface quality.
• Ultimaker App - The Ultimaker app allows users to keep up with the progress of printing from a phone or tablet wherever they are. The free Ultimaker app notifies users when a print is ready or when a printer needs special attention or maintenance. The Ultimaker application will be ready on May 15 for Android and iOS, and works with the Ultimaker S5 and Ultimaker 3 3D printers.
"The development of Ultimaker S5, in combination with the new material solutions and the Ultimaker App, sets a new standard for intelligent and accessible professional 3D printing," says Jos Burger, CEO of Ultimaker. "Our commitment to build a complete 3D solution, from hardware and software to materials, offers our growing user base an integrated, automated and reliable printing process with a very high success rate. The time required to set up this new 3D printer is lower than ever, which allows users to focus entirely on the creation of functional prototypes, larger objects and other designs and models that require total geometric freedom. In combination with our evolving software and our global sales and service network, we have made local digital manufacturing a reality."
Ultimaker S5 and Ultimaker Tough PLA will be available on May 15, 2018 through the global network of Ultimaker partners, in which Grupo Sicnova is a distributor for Spain, Portugal and Latin American countries. For more information, visit ultimaker.com or the Ultimaker blog.
About Ultimaker
Ultimaker has been active since 2011, and since then it has grown to become the market leader, creating professional and accessible desktop 3D printers, with offices in the Netherlands, New York and Boston, plus production facilities in Europe and the United States. Ultimaker's team of more than 300 employees continually strives to offer the highest quality 3D printers, software and materials to accelerate the global transition to local digital manufacturing.