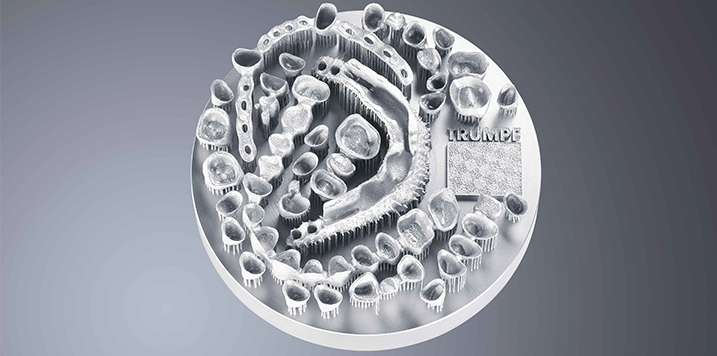 30 March, 2022
TRUMPF, leading company in machine tool manufacturing solutions, laser technology and electronics for industrial applications, will present their latest developments in additive manufacturing and marking systems for the dental industry at Expodental trade show.
Located at Hall 10, Stand A06, IFEMA fairground, TRUMPF will exhibit their TruPrint 1000, the most productive machine in compact form for the sintering of pieces, prostheses, molds, and tools for the dental sector. Thanks to its simple operation, high precision, and flexibility, the TruPrint 1000 can create components in practically any geometric shape cost-effectively and with maximum quality.
TruPrint 1000 can be equipped with the TruTops Print dental pack, an industrial software for professional build job preparation that enables to calculate build jobs quickly and can import and export cobalt-chrome parameters.
"Our TruPrint 1000 machine offers high productivity, time and cost reductions and superior 3D printing quality for the sintering of dental pieces with complex geometric shapes," explains Ignacio Imizcoz, TRUMPF Spain Director of Laser Division.
TRUMPF will also demonstrate it TruMark Station 5000 laser marking machine equipped with the laser TruMark 5050 for traceability in materials such as metal and plastics. Its intelligent and ergonomic design, compatibility with all TRUMPF marking lasers and extreme safety, make the TruMark Station 5000 the perfect machine to perform traceability functions with excellent results.