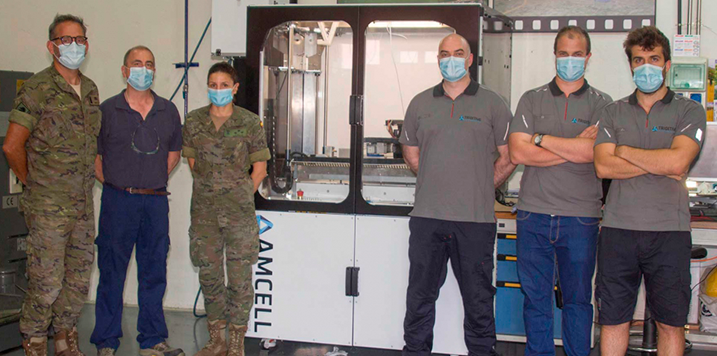 21 February, 2022
Additive manufacturing offers a significant advantage when it comes to manufacturing parts to order and offers a manufacturing capacity of geometries that are not possible to attain through traditional manufacturing, reducing inventory levels and production costs by printing small batches. Since the installation of the first Amcell 1400 platform in the PCMAYMA (Spanish Land Army Arms and Artillery Material Park and Maintenance Centre) in Valladolid, several replacement parts have been 3D printed in both metal and polymers for different types of applications in the defence sector.
The Amcell 1400 series will provide the defence sector with greater productivity at a lower cost per printed part, ensuring total scalability thanks to its hardware and software platform. At the same time, its building volume (400 x 400 x 400 mm) enables large-scale spare parts to be manufactured in steel and polymer for applications in global military operations.
Amcell Series
The Amcell 1400 series was designed to adapt to the needs of the Land Army in terms of printing volume and is equipped to print in metal and polymer to high security standards. The unit installed in the PCMAYMA complies with military grade requirements.
The Amcell 8300 series by Triditive was presented for the first time at Formnext 2018 in Frankfurt. It is an automated system for increasing metal and polymer production in order to bring additive manufacturing to the production plant at the lowest cost per part.
According to Mariel Diaz, CEO of Triditive: "We hope that our technology will accelerate applications of 3D printing in the defence sector. We are demonstrating how the automation of additive manufacturing with Amcell is the best solution for production to scale using additive manufacturing".
Source: Interempresas