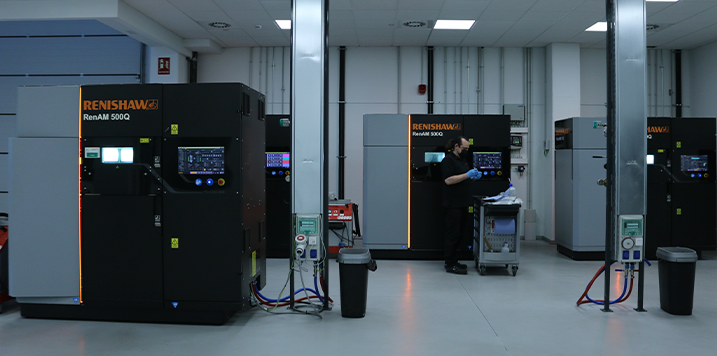 13 June, 2022
From June 13 to 17, after 4 years of absence due to the COVID pandemic, the Bilbao Exhibition Center reopens its doors to host the 31st edition of the International Machine-Tool Biennial, the largest machine and advanced manufacturing fair of Spain, where professionals from the automotive, aerospace and capital goods sectors meet to offer and promote the most advanced solutions in the industry.
On this occasion, Renishaw returns to present its novelties at stand B42, in hall 3. The company will exhibit its solutions for process control and industrial transformation, as well as different industrial applications manufactured in its additive manufacturing systems.
At the stand, visitors will be able to see the REVO 5-axis multisensor measurement system, working on a Wenzel company coordinate measuring machine (CMM), the SPRINT™ technology with Productivity+ on a Fanuc machining center, in addition to the probe OMP400 and the NC4+ Blue tool breakage detection and setting system.
On the other hand, it will also demonstrate in an integration with Universal Robots' UR5 its EQUATOR 500 equipment and the process control automation kit that is made up of the IPC intelligent control and the EQ-IO interface, in addition to the EZ-IO software, which allows integrating Equator systems with automatic loading.
This year Renishaw has dedicated a special place on the stand to show machine tool manufacturers its new FORTIS encoder that provides high performance measurements in the harshest environments, as well as the XM60 and XK10 systems. These 2 solutions are essential to carry out verifications before and during manufacturing, providing benefits that will not only avoid unnecessary machine stops, but would also contribute to manufacturing with zero scrap parts through the measurement of all the geometric errors of an axis from of a single capture (XM-60) and the measurement of geometry and rotational errors during construction, maintenance and service (XK-10).
Likewise, Renishaw decided to pay a small tribute to the BIEMH contest with the manufacture of its logo by metal additive manufacturing with the process called Powder Bed Fusion. The logo has been manufactured using the RenAM 500Q multi-laser system with Hastelloy-X metal powder, an alloy with an exceptional combination of resistance to oxidation, ease of manufacturing and excellent mechanical properties even at high temperatures. The construction consists of 133 layers of 60 microns and was completed in 1h 50min.r.