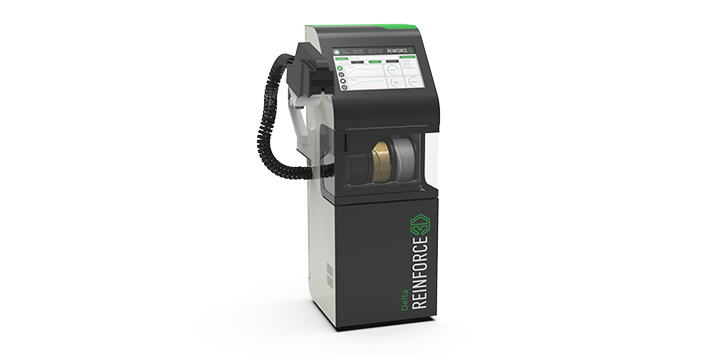 02 November, 2023
Reinforce3D, a company specializing in innovative post-processing technology for the additive manufacturing industry, known as Continuous Fiber Injection Process (CFIP), is gearing up to unveil an entirely new industrial CFIP solution at Formnext 2023 in Frankfurt. Founded in 2022 by BeAble Innvierte Kets Fund (BIKF), Eurecat, and Marc Crescenti, this startup, under the leadership of CEO Blanca Garro, has rapidly advanced its technology in a short span of time.
CFIP enhances 3D printed parts with continuous fibers, delivering exceptional mechanical performance and lightweight attributes. The process involves designing tubular cavities within parts, into which fibers, along with resin, are injected. The resin transports the fibers through the cavities, acting as a mechanical interface between them and the rest of the part once cured and solidified.
Carbon fibers are among the most commonly used by engineers, but CFIP can also handle other fiber types, such as glass or aramid. The company's goal is to implement the technology with other fiber types in the future, including natural fibers.
CFIP is the first technology to reinforce a part after it's manufactured rather than during the printing process. This innovative concept opens up new, previously unimaginable possibilities, such as the ability to reinforce any additive manufacturing technology and material, including plastics, metals, and ceramics. Combining CFIP with high-speed manufacturing technologies like MJF or SLS can result in highly cost-effective and time-efficient solutions.
Furthermore, CFIP allows fibers to be placed in complex paths, even between printed layers. Beyond reinforcement, the technology can also integrate different parts by injecting fibers through them, ensuring end-to-end fiber continuity and high-performance connections. In this way, CFIP enables the efficient production of large structures.
This technology has already demonstrated its potential through collaborations with various companies in sectors like aerospace, automotive, sports, and construction, offering high value in terms of mechanical performance, lightweight design, cost reduction, and the production of large components.
Reinforce3D's new machine, named "Delta," is an evolution of the technology, adapting it to the fast-paced industry developments by automating the process and making it more user-friendly.
The machine is operated through a user-friendly graphical interface on a touchscreen, designed to be intuitive and easy to use. The engineering team focused on condensing the necessary technology to create the injector, which forms the core of this technology.
Due to its compact size, Reinforce3D's creation can comfortably fit in a laboratory or workshop, allowing it to coexist with a modern 3D printer in limited space. Importantly, it is capable of embracing Industry 4.0 by combining with robotics to automate the reinforcement process and seamlessly integrate into a production workflow as an online solution.
With its innovative concept, new features, and significant enhancements offered by CFIP, Reinforce3D's technology is truly revolutionary. It is seen as a disruptive technology that enables industrial-scale additive manufacturing with high-performance materials.
Reinforce3D's latest creation will be on display at Formnext 2023 in Frankfurt, where the Reinforce3D team will be available to provide detailed explanations of the machine's operation and the CFIP technology. Don't miss the chance to witness this groundbreaking technology in action.