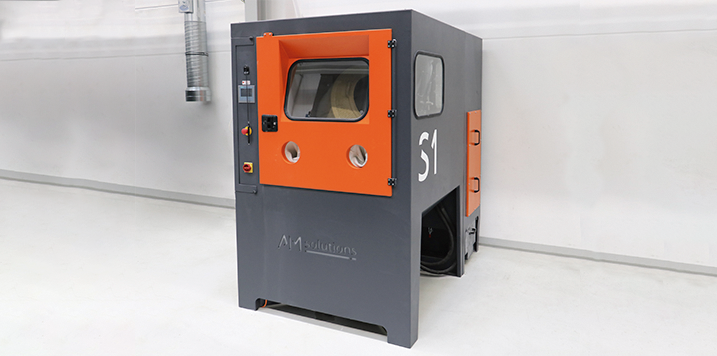 25 February, 2021
OECHSLER, probably the world's largest manufacturer of 3D printed plastic components, has purchased the S1 post processing system by AM Solutions - 3D post processing. The automated system, S1, will help the business to meet the strictest quality, repeatability, traceability and profitability requirements of the automotive industry.
The OECHSLER corporation, located in Ansbach, Germany, has been working with additive manufacturing since 2017 and has since become one of the world's largest manufacturers of 3D printed plastic components. In close cooperation with the main manufacturers of 3D printers and suppliers of suitable materials, OECHSLER has been actively pursuing assembly line production of 3D printed components for industries such as automotive, domestic appliances and sporting goods. Matthias Weißkopf, senior vice-president of global product development and technology at OECHSLER, explains: "Post processing represents a huge development in the additive manufacturing field. For a long time, this aspect of the process chain has been somewhat overlooked. But post processing is a key factor for the profitability and quality of products manufactured using additive manufacturing. So, accurately developing and defining the automatic post processing procedures is an important task". "OECHLSER's experience in assembly line production and the related post processing requirements will once again help us to perfect the development of the machine", added Manuel Laux, Director of AM Solutions - 3D post processing.
Repeatability: a key parameter
The company tackled this challenge head-on with an innovative product for a leading German car manufacturer. This product, with a grid structure (interlocked), is printed using a recently developed material. In order to line manufacture the product, the company needed to find an automated post processing solution that, among other requirements, would meet the demands of the automotive industry in order to achieve consistently high quality processing results. Matthias Weißkopf goes on to say: "Our company already had a long-standing relationship with Rösler. When our HP partner recommended AM Solutions - 3D Post Processing, we took advantage of the opportunity not just to get to know this new division of Rösler, but also to get a closer look at its S1 post processing solution. After intensive talks and extensive testing with equipment suppliers offering post processing solutions for 3D printed components, we chose to partner with AM Solutions". The S1 plug and play blasting system was specifically designed for post processing 3D printed plastic components. This machine can automatically process full batches of parts in a rotating basket.
Process flexibility and safety: key aspects of post processing
OECHSLER decided to acquire the S1 system because it offered a high level of flexibility for the blasting process and allows all kinds of different materials to be used, such as PA, PP and TPU. The machine can easily change from automatic to manual operation, without the long time lapse other blasting systems require. In addition, the S1 system offers other technical features such as the antistatic polyurethane coating inside the blasting chamber, the rotating basket, and motors and valves that comply with ATEX regulations. Another important factor was the ergonomic loading and unloading of the component batches. During operation, the rotating basket remains completely inside the blasting chamber to ensure that no contaminants, such as loose powder, can spill on the floor. Other significant technical features were the automatic control and storage of the process parameters and the classification of integrated blast abrasives. Matthias Weißkopf adds: "These standard features are essential in order to meet the requirements of the automotive industry and other industrial sectors in terms of processing safety, profitability and repeatability of processing results. They are essential for transforming additive manufacturing into an assembly line manufacturing technology".
Fast results through open and constructive cooperation
The project teams in both companies jointly developed customised engineering solutions for the specific requirements of the OECHSLER process. The open and constructive atmosphere fostered by both companies was a significant factor in achieving the desired positive results within a surprisingly short time frame. This enabled the S1 machine to be up and running at OECHSLER at the end of August 2020. Matthias Weißkopf concludes: "With AM Solutions - 3D post processing technology we have found ourselves a partner with whom we can develop an optimal solution that meets our specific requirements 100%. We believe that this partnership offers great potential for future developments in the field of additive manufacturing".