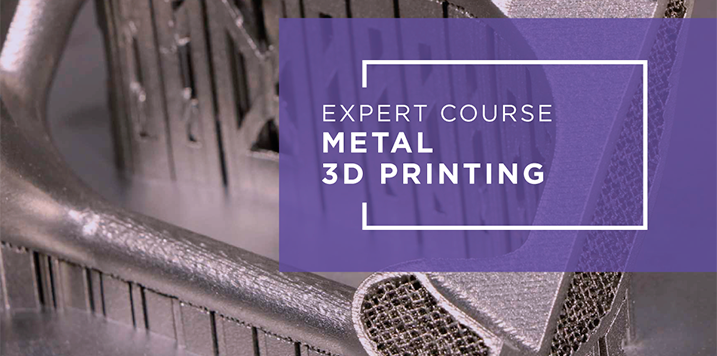 15 April, 2019
EDDM Training's first expert course in metal 3d printing begins on the 24th of May.
The Expert Course in Metal 3D Printing supposes a unique and innovative training course in Spain, giving our students the opportunity to know from the hand of the most recognized experts of the sector all the current technologies of metal additive manufacturing.
These technologies include SLM (Selective Laser Melting), EBM (Electron Beam Melting), Laser cladding, WAAM, Material Jetting and the latest to be incorporated and currently more fashionable amongst metal FDM, Desktop metal and Markforged X as machine references.
As a complement to the whole theoretical part, in this course on design and manufacturing of 3D metallic materials, students will learn to apply the technology with a practical case study while manufacturing a part used in the industrial sector and its prior design based on specific requirements. We will start with a topology optimization to design our piece and as a totally innovative and unique action our students will be able to learn how a simulation of the manufacturing process is carried out, knowing in advance the residual tensions in the piece and the deformations that will occur in it during manufacturing. Through the results of this simulation we can introduce corrections in the design to obtain the final form, a discipline that is currently in full expansion and is known as design against distortion.
The Expert Course in Metal 3D Printing is a reference course in the industrial field and pioneer in its kind, covering all the novelties that are taking place in the field of additive manufacturing with metallic materials. Along with the Professional Course in 3D Printing and the other expert courses that preceded it: 3D printing for product design, structural analysis for 3D printing and biomedical 3Dprinting, EDDM Training's students acquire the skills of experts in design and manufacturing in 3D printing at a professional level.
The course has a duration of 50 hours and an executive schedule suitable for those people who work during the week. It is taught to small groups so as to give a personalized and direct attention to students, therefore places are limited.
It is also important to bear in mind that all EDDM Training courses are subsidized with FUNDAE, the state foundation for on-the-job training, so that companies can take advantage of and train their employees in this technology that will add skills and knowledge of the future.
Access the page of the Expert Course in Metal 3D Printing for more information and registration.