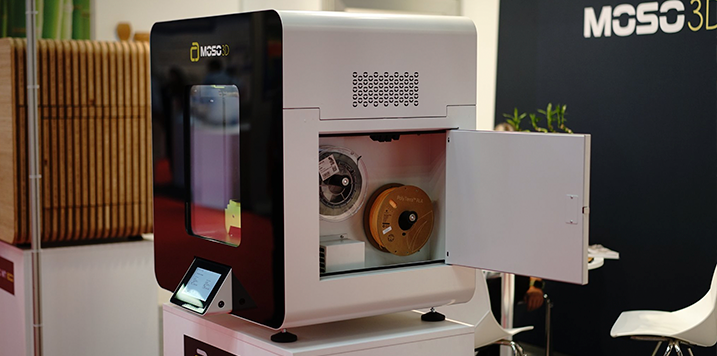 18 October, 2022
Moso3D is a company focused on the professional sector, which designs and manufactures 3D printers specialising in additive manufacturing. Moso3D presented its two printer models at the previous ADDIT3D trade fair and these are now ready to go to market.
As specialists in 3D printing, the Moso3D team has developed a machine with the features they always wanted in a printer. The Moso MT printer contains features such as self-calibration of bed height, self-calibration of extruder offsets, heated chamber, hepa filters, magnetic hotbed, heated material housing, etc. In short, everything necessary to print as much material as possible, as efficiently as possible.
But what makes this machine special is the automatic workhead system. This allows users to avail of a special head for flexible filaments or for reinforced fibres, or to have several different workheads that can be used interchangeably based on the needs of each printed piece.
Advantages of the Toolchanger system
Moso MT in an automatic tool changing system that allows customised extruder combinations for each application. The versatility of multi-tool systems like this one allows for many applications and advantages with respect to fixed multi-extruder systems.
From the simultaneous use of different nozzle diameters to the capacity to use different diameter filaments (1.75 or 2.85 mm) in the same print run and the possibility of having spare extruders with different characteristics ready for use. With this interchangeable extruder system, it is easy to mix up to 4 materials without cross contamination thanks to the fact that each material has its own extruder.
Main features of the Moso MT printer
The printer uses a customised Core XY system with a resistant chassis, providing a robust platform for the drive systems and enabling the printers to reach high speeds and top notch precision.
Based on the open source material philosophy, it is capable of printing a wide variety of thermoplastic materials and this list will expand further with the development of new workheads/tools in the future.
One of the advantages is that the nozzle diameter can be selected from the slicer and changed without requiring any manual action. Some of the improvements include the option to use different diameter filaments (1.75 or 2.85 mm) in the same print run, the option to mix up to 4 materials without cross contamination thanks to the separate extruders, or the option to have spare extruders ready to go in the event of a blockage.
4 tools / FFF technology extruders

Print volume

300 x 300 x 300 mm

Exterior dimensions

800 x 600 x 800 mm

Bed temperature

150ºC

Chamber temperature 70ºC

Auto-levelling & Auto-offset

Material humidity control

Hepa Filter

Automatic sliding door
Tools
The launch presents 3 tools, each of which is custom designed to reliably print a wide range of materials . All of these are machined pressure components that facilitate exact control of the print parameters and positioning and include an accelerometer that self-calibrates the prints, eliminating faults and increasing quality.
STANDARD TOOL: An all-purpose extruder for the majority of applications. Direct extrusion, brass nozzle, temperature of up to 280ºC and filament diameter of 1.75 mm.

FLEX TOOL: Specially designed tool for flexible filaments. Direct extrusion, accurate pressure control on the filament, brass nozzle, temperature up to 280ºC, filament diameter of 2.85 mm. Capable of printing up to the most flexible filaments with 60 Shore A hardness.

TECH TOOL: A custom designed tool for printing technical materials reinforced with abrasive fibres at high temperature, direct extrusion, reinforced steel nozzle, temperature up to 350 ºC, filament diameter 1.75 mm.
All tools are constructed with high quality machined components, which, together with the positioning system, guarantees accurate and safe fastening. They are working to implement new tools such tools for bioprinting, pellet extruders, pasta extrusion, continuous fibre, laser markers, etc.
Thanks to the modular system, the useful life of this printer is guaranteed with new tools for new materials and needs.
Moso3D moves into the European market
Moso3D is to attend the FORMNEXT 2022 international trade fair with a twofold objective: To present itself to the European professional 3D printing market and seek partners and distributors for their equipment outside of Spain. They will be at the Moso3D stand at the Frankfurt event from 15 to 18 November, in hall 12.1, stand G118. Currently Moso3D printers are only available on the Spanish market.