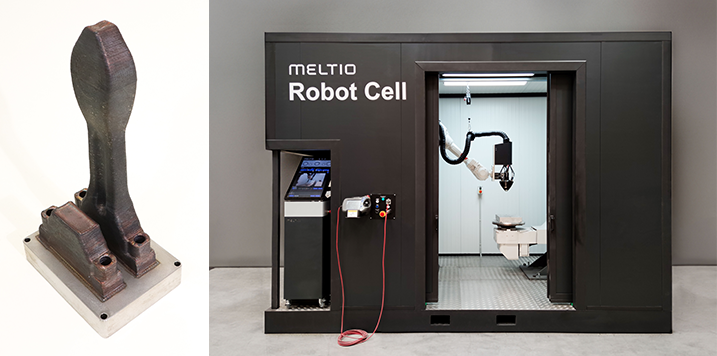 30 October, 2023
Meltio (Hall 12.0, Booth C101) presents at Formnext 2023 its unique additive manufacturing solutions for creating and repairing industrial metal parts. This technology, based on laser welding wire, solves industries such as automotive, aerospace, mining, oil and gas, among others, all their needs in terms of requiring the manufacture and repair of metal parts with unique 3D printing technology, which is highly reliable and cuts both costs and increases the return on investment with respect to traditional manufacturing methods.
For the first time at Formnext, Meltio will present its new Meltio Robot Cell - which includes its laser 3D printing head on an ABB robotic arm - and will print live metal parts, the Meltio M450 printer creating parts and a mock up with its integration into a CNC machine.
Thanks to our revolutionary metal 3D printing technology, it allows users to produce metal parts of very high density in a single-step process on a very compact footprint. Wire Laser Metal Deposition is a Directed Energy Deposition (DED) process that functions by precisely stacking weld beads on top of one another, in wire form, when introduced into the laser-generated melt pool.
The Meltio product portfolio includes:
Multi-Laser Deposition Head
: Host of multiple lasers, and capable of processing single and dual wire simultaneously.
Single and Dual Wire
: Built around wire, the safest, cleanest, and easiest to work with metal feedstock.
Multi-Material System
: Unlimited Third-party Material Choice, from steels to titanium, among others.
Meltio's robust portfolio of metal 3D printing hardware and software solutions allows global industries to execute the entire additive manufacturing process from design to production to create fully dense (99,998%) metal parts. Meltio offers global industries a revolutionary patented technology based on wire-laser metal process.
Meltio M450 metal 3D printer; Meltio Engine Robot integration; Meltio Engine CNC integration; Meltio Space software and the new Meltio Robot Cell are ultimate technological solutions to manufacture metal parts with stainless steels, nickel, inconel, titanium and much more.
The Meltio portfolio of metal AM solutions is the perfect platform for large and complex 3D printing, repair, cladding, and feature addition. The company's latest product launch, the Meltio Robot Cell is an affordable turn-key solution for the Meltio Engine Robot Integration. All of the systems share the same patented LMD-based (a type of Directed Energy Deposition (DED) process) process capable of manufacturing parts using commodity welding wire.
Aerospace, automotive, mining, defense, oil & gas and many other industries find in Meltio's technology the answer to solve their needs for creating and repairing metal parts in their production centers. Our solutions provide a 24/7 response with easy-to-use equipment that achieves high-density, reliable large parts for medium and large metal parts.