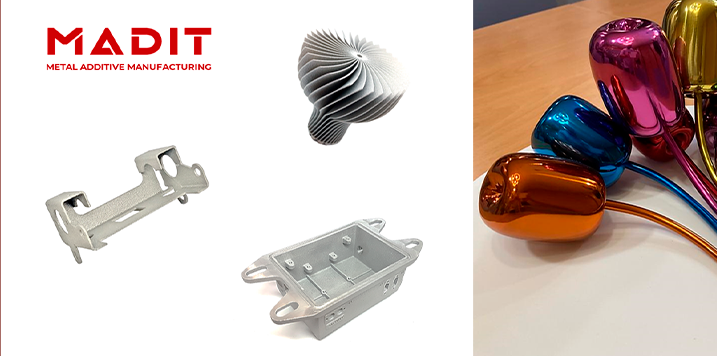 09 June, 2022
MADIT will attend as an exhibitor for the first time in ADDIT3D 2022 Fair that will be held within the Bienal de Máquina Herramienta in Bilbao. After the long pandemic, this recently created company will finally be able to show the metal additive manufacturing parts that has developed in recent years.
In the stand of the fair you can see steel and aluminum parts focused on different applications in the industrial world printed in 3D using SLM technology (Selective Laser Melting): turbines, bent sheet metal, electronics parts, ducts and pipes.
In addition, you will be able to see the results of the application of the different post-processes offered by MADIT: machined parts, polished components, painted products, etc.
MADIT is a spanish company specialized in the design and manufacture of metal parts using SLM technology, Selective Laser Melting (3D printing technology). Madit designs and produces parts (max. 250 x 250 x 300) in aluminium AlSi10Mg, stainless Steel 316L and martensitic Steel 1.2709 in short-medium runs, optimizing designs compared to traditional systems.
It manufactures metal parts for all types of industrial sectors (automotive, oil & gas, electronics, etc.) and for multiple applications. Its clients are maintenance companies, manufacturers and consumers of the final piece. In addition, it specializes in post-processing for 3D printing so that the final piece is delivered to the client. These capabilities allow manufacturing costs and delivery times to be reduced to the maximum.