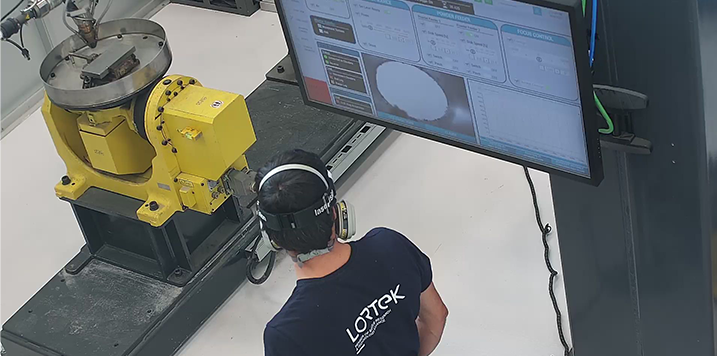 30 October, 2023
LORTEK (Hall 12.0, Stand B119), a prominent spanish private Technology Centre, member of the Basque Research & Technology Alliance (BRTA), stands as an innovative force in the field of additive manufacturing, deeply committed to developing cutting-edge technological solutions and pioneering research that are driving the digital and energy-climate transition.
Additive Manufacturing experts
LORTEK is at the forefront of additive manufacturing, leveraging its wealth of knowledge and experience to create cutting-edge products and systems. Its commitment to research, advanced manufacturing processes, and component repair is empowered by pioneering equipment and a highly skilled team in additive manufacturing and digitalization technologies.
LORTEK's cutting-edge technological solutions, focus on quality, commitment to sustainability, and exploration of hybrid manufacturing and automation, will be presented next november at FORMNEXT 2023, Stand B119, Hall 12 of the fair. These solutions position LORTEK as an ideal partner for those at the forefront of the digital and energy-climate transition.
DED-Arc, Directed Energy Deposition - Arc:
In this realm, LORTEK focuses on designing and developing systems and processes for part repair and manufacturing with the support of digital solutions. They prioritize ensuring the quality of manufactured parts through temperature control, protective atmospheres, and adaptive trajectory software. Their research extends to new areas, including quality prediction systems, digital twins, and on-site portable repair systems.
DED-LB, Directed Energy Deposition - Laser Beam:
LORTEK's research in DED-LB involves the LMD process, exploring various flexible machine architectures to develop new materials, processes, and control techniques. They are dedicated to automatic repair methodologies, additive manufacturing of preforms, and applying DED-LB technology to new challenging applications. Their research continues into quality prediction systems, high-power DED-LB, digital twins, and automated AM and repair processes with robots.
PBF-LB, Powder Bed Fusion - Laser Beam:
In this domain, LORTEK designs products for diverse industry sectors and develops materials, parameters, and process methodologies with state-of-the-art equipment. They place a strong emphasis on PBF-LB monitoring systems to ensure quality, traceability, and repeatability. Their research extends into laser beam shaping, reducing the quantity of supports, and developing components for sustainable mobility and hydrogen storage.
Key Areas:
Quality Prediction and Control: Pioneering systems that predict and control the quality of manufacturing processes through the analysis of monitored signals and non-destructive testing (NDT). This commitment to quality assurance is vital in additive manufacturing.
Digital Twins and Real-Time Simulation: Development of digital twins that allows for real-time simulation and data capture, providing insights and control over the manufacturing process.
Sustainability Initiatives: Exploring eco-friendly solutions such as free-float concepts to reduce supports and components for sustainable mobility.
Hybrid Manufacturing: At the forefront of hybrid manufacturing, integrating additive manufacturing with traditional techniques to open up new possibilities and applications.
Automation and Robotics: The center's research extends to automation and robotics, offering solutions for automated additive manufacturing and repair processes.
The research work carried out by the center and its deep expertise in this field position LORTEK as an ideal partner for companies aiming to lead the digital and energy-climate transition, with products developed using metal additive manufacturing technologies.