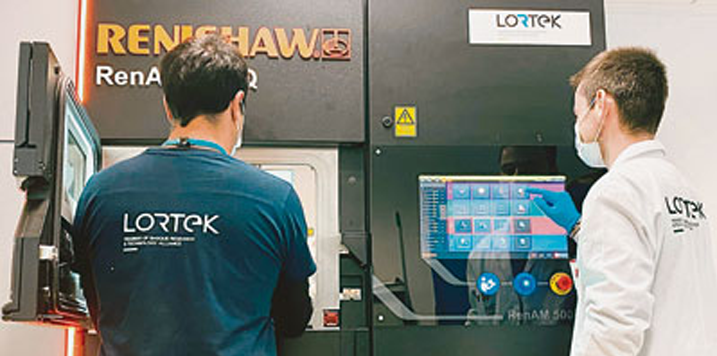 16 February, 2022
LORTEK advances towards industrialisation of metal additive manufacturing
Since its emergence, additive manufacturing has evolved from building non-functional or semi-functional prototypes to producing fully functional complex components. These technologies are applied in industries ranging from aerospace to medical implants thanks to the capacity to manufacture individualised parts adapted for applications with a specific end use, with new functionalities and often with considerable geometric complexity.
In the metalworking sector, Lortek, Createch and Egile Mechanics collaborated on the APEM-AM project for "advanced design, process efficiency and quality assurance in metal additive manufacturing". Its aim is to create a new framework for metal additive manufacturing to enable faster and more reliable manufacturing and, as a result, offer better competitiveness thanks to greater cost savings.
The APEM-AM project takes on this challenge, modifying the approach from the initial stage of the product's value chain, by including the development of new computational design methods. These solutions are based on the integration of topological optimisation tools with numerical process simulations to gain expert design knowledge for additive manufacturing, as well as the development of process monitoring techniques that can provide data in real time for quality assurance purposes.
Cutting tools
The project also entailed optimising the post-processing stages; developing a new range of cutting tools to eliminate support elements and developing new cutting solutions optimised for the typology of aeronautics and dental equipment parts considered in the project, generating a suitable surface finish for the requirements.
APEM-AM seeks to broaden the domain of metal additive manufacturing in order for it to be considered an advanced manufacturing technology in cutting-edge sectors and within a globalised industrialisation framework. The results will enable industry partners to establish an improved and innovative work flow that is pioneering on a global scale and will facilitate the introduction of new products for the aeronautics and medical sectors in a reliable and optimised fashion.
Lortek, a member of BRTA, is a technological centre focused on manufacturing processes and their digitalisation and specialising in bonding technologies and metal additive manufacturing. Createch, for its part, is a dental prosthesis manufacturer, offering solutions that combine additive manufacturing and subsequent milling of critical areas. Lastly, within the aeronautics sector, Egile Mechanics is developing production processes in new specific work cells adapted for additive manufacturing as a strategic future commitment, which complement the current product.
Source: Estrategia Empresarial