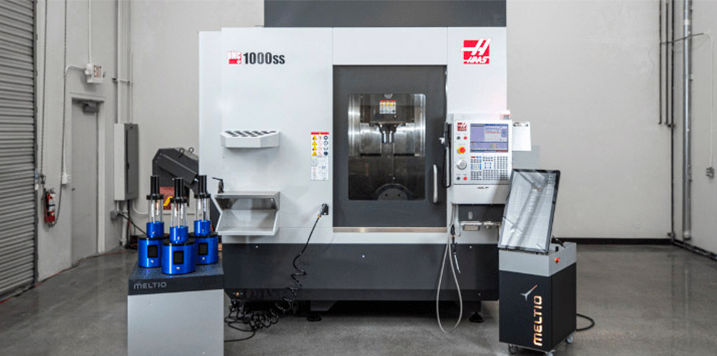 09 June, 2022
Sicnova, a leading distributor of professional and applied 3D printing and 3D scanning technologies for industrial, medical and education sectors, will present the integration of Meltio Engine in hybrid systems with robotic arms or CNC at Addit3D 2022.
Meltio's metal 3D printing technology offers advanced additive manufacturing solutions for the creation of metal parts based on its new disruptive technology. For the first time ever, companies have at their disposal an easy, efficient and scalable solution that can be integrated into hybrid systems with robotic arms or CNC thanks to Meltio Engine, the module for metal 3D printing with hybrid systems that Sicnova will present at Addit3D.
Addit3D will take place at BEC in Barakaldo from June 13th to 17th in the context of the 31st edition of the BIEMH - International Machine Tool Biennial. Sicnova, a company that operates in Spain, Latin America and Portugal, will exhibit the catalog of the best brands in the sector, such as BCN3D, Formlabs, HP 3D Printing, Markforged, Meltio, Shining 3D, Ultimaker and Kimya filaments.
Sicnova's booth, A05 in P06, will host 3D printers such as Markforged's Metal X series. This is the only 3D printer that can print in copper and Sicnova will demonstrate how it manufactures parts in this material live. Other machines from the industrial range will also be present, such as the X7 or the desktop models MarkTwo and Onyx Pro. Another product that Sicnova will show for the first time at Addit3D is the Ultimaker PVA removal station, a complement to its printers that dissolves polyvinyl alcohol up to four times faster and has just been released.
Sicnova says it will also present new products such as the FreeScan and Transcan 3D scanners from Shining 3D, "one of the best brands in the world in this sector," and will also demonstrate how they work at its stand. They will also bring the Fuse 1 3D printer from Formlabs, which has just completed its first Spanish tour with Sicnova, the BCN3D printers, and solutions from HP 3D Printing. Among the filaments it will highlight there are Kimya's sustainable Remake filaments, made from recycled materials to make 3D printing a more environmentally friendly activity, and its 92 A TPU, certified by the FDA for food contact. "We are delighted to be back at Addit3D, the benchmark trade fair for additive manufacturing in which we have participated since its inception," they explain at Sicnova.