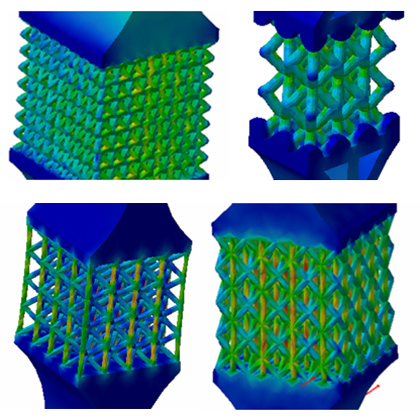 08 January, 2018
The consulting firm specialized in additive manufacturing and 3d printing, EDDM Solutions embarks on a new project in R&D focused on the development of optimized lattice structures with specific geometries for manufacturing in 3d printing.
The project, which will have a 3 year duration, has its focal point on the design and finite element analysis (FEA) of these type of structures and will hold a heavy load of destructive testing of specimens manufactured in FDM and SLS that will help in the characterization of geometries that have a ratio of resistance /weight superior to those already existing.
The project will broaden the spectrum for EDDM Solutions in innovation and additive manufacturing, proposing unique and pioneering lines of investigation on a national level. EDDM has always bet on innovation also from a training perspective, with the creation of the first Masters Degree in Engineering and Additive Manufacturing MIFA, an advanced course in professional 3D printing, first of its kind in the Spanish territory, that will benefit from the know how that the company will acquire from this project that commences.