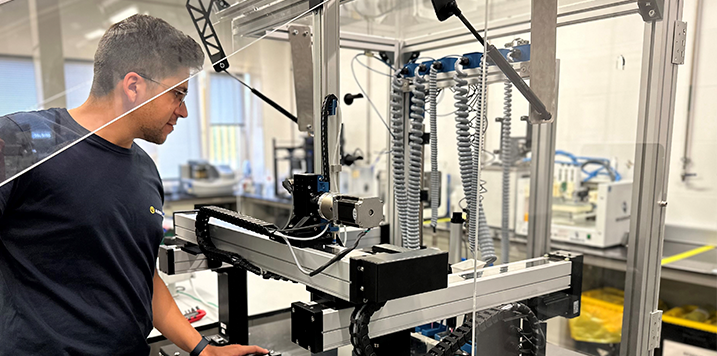 18 October, 2022
Promoting 3D printing technology in hospitals and resolving environmental challenges in the building sector are the goals of the two training projects, ALADDIN and TAB4BUILDING, co-financed by the European Union's Erasmus+ KA202 programme, which concluded successfully this month. AIMPLAS, Technological Institute of Plastics, has taken part in these projects which have the shared goal of introducing plastics and plastics technologies into sectors in which they can contribute added value, such as healthcare and construction, through professional training.
Both projects have included the drafting of specific training programmes which enabled the training deficit in these sectors to be addressed in terms of additive manufacturing technology in the case of hospitals, and the use of fibre-reinforced polymers in the field of sustainable construction. In order to implement these programmes, which are available in the official languages of the project partners, pilot editions were also developed, which were very positively received and reviewed by the attending professionals.
Now that both projects have concluded, the consortia intend to replicate these courses so that they can reach the largest possible number of professionals, in order to improve their expertise, respond to new healthcare challenges and promote upskilling in sustainable alternatives for construction.
In the case of ALADDIN, AIMPLAS has coordinated this project with the main aim of introducing additive manufacturing technology (or 3D printing) into hospitals, as it offers numerous advantages to the healthcare sector, such as customisation and speed of production. One of the main barriers to its integration in this field is lack of training and, to address this, the project proposes creating a specific training programme aimed at two profiles: hospital staff and engineering students who can avail of this training to enter the healthcare sector.