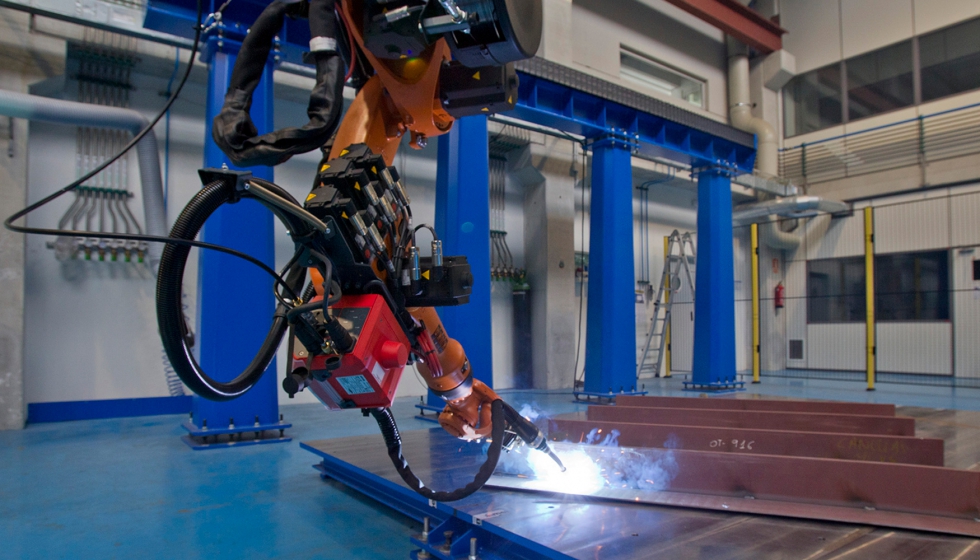 Aimen Centro Tecnológico is heading up a consortium of 31 entities from 9 countries taking part in project Penelope, an initiative aimed at implementing a new digital manufacturing methodology to enable more flexible and accurate manufacturing of large-scale parts. For this purpose, it is setting up a digital thread to digitally link all the stages of large part manufacturing along the value chain, in other words, from the initial design to the end product. The entities comprising the consortium also include another associated to the cluster, the TECNALIA RESEARCH & INNOVATION foundation.
Project Penelope, which has a budget of Euros 20.8 million, may mean a paradigm shift in manufacturing with this pioneering manufacturing technology applied to large-scale parts.
The motivation for putting this project into action lies in the current complexity of manufacturing and repairing large-scale parts with high design and engineering costs, constant redesigns to fix deformations occurring in the parts manufacturing process and the need to resort to manually executing operations, which is generally complicated and requires specific skills. With the solution developed by Project Penelope, even in these titanic components, high levels of precision, automation, quality and speed can be achieved; rendering the process more agile and improving precision across all the stages.
The aim of Penelope is to develop a global solution that offers a zero-fault manufacturing model, which will even take advantage of the data generated during each stage of manufacturing to help decision-making in each process by supporting artificial intelligence. This solution will be supported by the development of new digital machinist-centred tools, such as robots, augmented reality, exoskeletons; guaranteeing quality and precision for manufacturing large parts, while preserving the knowledge and skills of machinists.
Penelope will be implemented in four key manufacturing sectors (metal-mechanic, naval construction, aeronautics and bus bodywork assembly) and a European network of open technology demos (Didactic Factories) will also be rolled out, which will provide training capacities, upskilling and recycling that will enable workers to progress in the transition towards Industry 4.0; general-use open innovation spaces that showcase the project's benefits; and industrial pilot trials and cutting-edge technological infrastructure. In addition, this network will also facilitate access to the technologies developed in Project Penelope for European large-scale component manufacturers as a whole.
Technologies
The technologies to be included in Project Penelope notably include the implementation of portable Augmented Reality solutions, capable of projecting the actual position of auxiliary elements to be assembled; artificial vision, which offers the possibility of superimposing and comparing the theoretical model with the construction status to easily determine if any production variances have occurred; control systems to improve quality and precision of work operations; manufacturing planning tools that simulate the workflow and can optimise operations; and exoskeletons to assist in the execution of non-ergonomic operations.
Other innovations the project will incorporate are the development of a two-way data flow in the entire manufacturing chain and a digital architecture for modular, reconfigurable, scalable and distributed manufacturing of large-scale parts. This project also places focus on the machinists, building in tools that are designed to create ergonomic, healthy and safe work places, where machinists use less manual exertion and accidents are avoided. These include exoskeletons, robotic arms, mobile robots or simulation equipment that assess the ergonomics, cognitive stress and skills of the machinist, among other things.
Source: Interempresas.