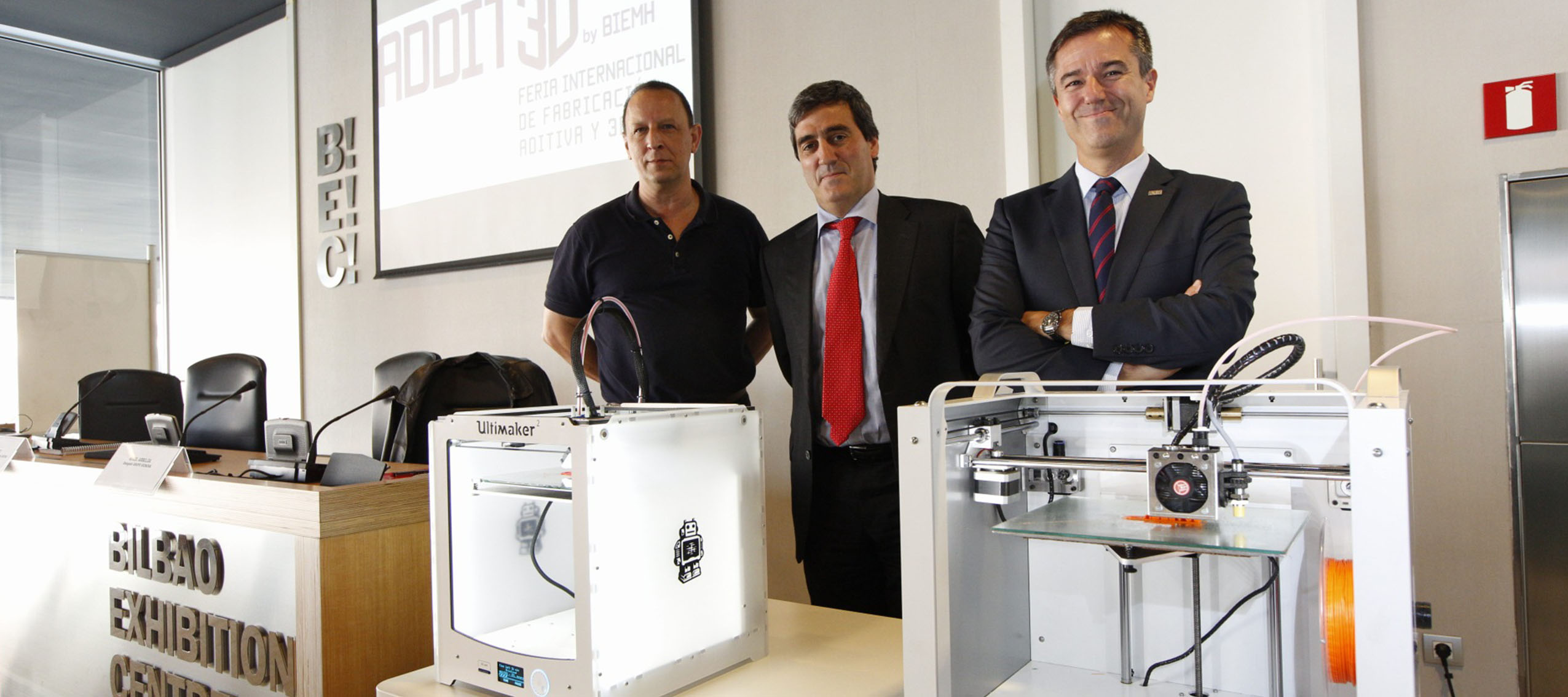 22 March, 2016
Bilbao Exhibition Centre and Addimat will take one more step in their commitment to advanced manufacturing when ADDIT3D is held this coming May – the first trade fair focusing solely on additive and 3D manufacturing fair in our country.
"The creation of a specific space devoted to these technologies which are revolutionising industrial production paradigms responds to companies' concerns about progressing with development of manufacturing 4.0 to enhance their competitive edge," Bilbao Exhibition Centre managing director Xabier Basañez stated during the presentation ceremony on 17th November. The description of the fair organisation's top official was categorical: "this is a pioneering initiative, with which we aim and expect to stay at the forefront of gatherings focusing on this sector."
Addimat director Xabier Ortueta also spoke at the press conference, asserting that "additive manufacturing is a reality that's here to stay and join other industrial manufacturing technologies; ADDIT3D will be an excellent platform to publicise and promote it." Also present was Mikel Arbeloa, the Sicnova Group's communication director and delegate in the Basque Country and Navarre. That company and Tumaker gave live demonstrations of 3D printing machines at the event to show visitors what they can expect to find at ADDIT3D, which aims to showcase products but also serve as a space for analysis and knowledge transfer.
ADDIT3D should thus be a forum of reference, bringing up to date many key concepts associated to this sector, whose rapid transformation has generated a great deal of interest alongside many questions. With this in mind, the organisers have conceived a comprehensive programme of conferences and activities to provide information and explain technical aspects besides presenting innovative applications and products to provide first-hand knowledge of the advantages offered by these technologies. Among them are shorter new product development time, lower weight and costs, design freedom, easier take-up of very complex jobs and transversal implementation.
ADDIT3D will also count an exhibition area where participating companies showcase systems and machinery (powder bed fusion, directed energy deposition, photo-polymerisation, sheet lamination, material extrusion, hybrid manufacturing cells), raw materials (powder, filaments, photo-polymers, etc), research and development, industrial applications, (aerospace and automotive technology, light construction, mechanical engineering, prototype and mould making, medical technology, household products, etc), consumables (gas supply, dielectric fluids, lubricants), services, software (simulation, machine and quality control, CAD/CAM, etc), scanners and training, as well as professional associations and specialist publications.
This new fair will be held parallel to BIEMH 2016 from 30 May to 4 June, thereby forming a major event devoted to the latest manufacturing technologies, with new opportunities and synergies at all levels, besides ensuring the participation of a broad-ranging group of stakeholders. In 2014 the Machine-Tool Biennial alone was visited by 35,500 people from 57 countries, representing the automotive, aeronautic, equipment, steel, renewable energy and railway sectors, among others. Additive and 3D manufacturing occupied a special area at recent BIEMH and SUBCONTRACTING fairs. The results in terms of participation and interest were very positive.
ADDIMAT is the Spanish Association for Additive and 3D Manufacturing Technologies, operating under the aegis of the AFM (Spanish Association of Machine-Tool Manufacturers). It aims to gather all players with a stake in development and promotion of additive and 3D manufacturing, with the mission of representing additive manufacturing and encouraging its development, besides fostering inter-business cooperation while offering professional services to its members. ADDIMAT is a forum on which to build a consistent and distinctive image of the additive and 3D manufacturing industry, giving a voice to its companies. It now counts 98 member enterprises.
SICNOVA 3D distributes 3D Systems products in Spain. Sicnova was founded in 2007 as a ZCorporation distributor in Spain, consolidating in 2009 as national leader in the sale of rapid prototype equipment, customised manufacturing and 3D digitalisation. In late 2011 it became a distributor for 3D Systems and in 2014 began own product development by creating an R&D&I department. Its workforce currently counts 25 employees at the headquarters in Jaén, and more than 60 others in the sales and technical service network at offices in Barcelona, Cantabria, Ciudad Real, Girona, the Canary Islands, Madrid, Málaga, Navarre, Valencia and Zaragoza.
TUMAKER creates 3D printing technology that empowers professionals and helps them work intelligently and productively with enhanced value. It continually focuses on innovation, creating accessible, reliable, versatile and easy-to-use technology that helps ensure that the creative process is a productive, satisfactory and fascinating experience. It is based in Oiartzun, Gipuzkoa, where the management and development offices are located, along with a 500 square metre space where digital manufacturing technology equipment, 3D scanners and printers are produced. Several printer models are currently marketed, though it also offers printers customised for clients.
MORE INFORMATION: www.addit3d.es