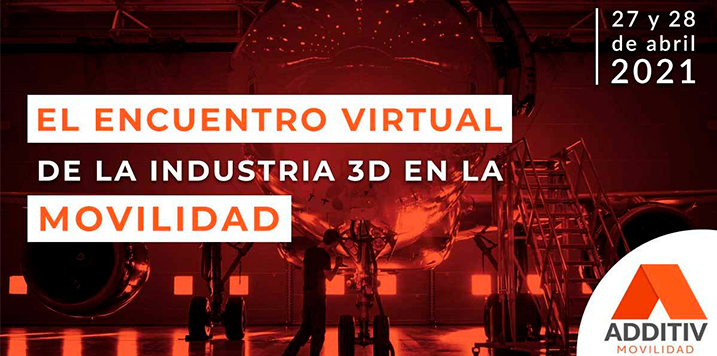 12 April, 2021
On April 27 and 28, the ADDITIV Mobility virtual event dedicated to the different transport sectors will be held, offering conferences, workshops and networking sessions with experts from the different mobility sectors. This meeting will allow the 3D industry to meet on the same digital platform to learn about the possibilities of 3D printing in the railway, automotive, naval and aeronautical industries.
ADDIMAT will moderate the first panel of the event, entitled "How is additive manufacturing transforming the transport sector?" In which the speakers will explain the advantages of using 3D printing technologies and the challenges of the sector in this regard.
The event will open its doors at 9:00 am with a presentation of the day before going on to the first ADDITIV Movilidad panel. The 45-minute round tables will cover topics related to the transport industry in Spain, as well as the advantages of using additive manufacturing in each sector. In addition, participants will be able to ask the speakers questions to answer them live.
The presence of big names in the industry, such as Alstom, Navantia, Airbus, Ford or HP, as well as many 3D printing companies that will be part of these virtual days, is confirmed. The full program is available on the ADDITIV website.
Registration can be done through the following link.